Rafi Műnz | Art & Nonsense
Home
Installation
Sculpture
Oil Painting
Collage
Watercolor
ExLibris
Prints
Books
Photo
Drawing
Graphic Design
Exhibition/Vita; dolce
Statement/Contact
Archive & Site Map
Critics

A joyful 5774, everybody
הקושיה לערה"ש ה'תש"עד:
למה לחכות למימונה אם
אפשר להתרווח כבר עכשיו?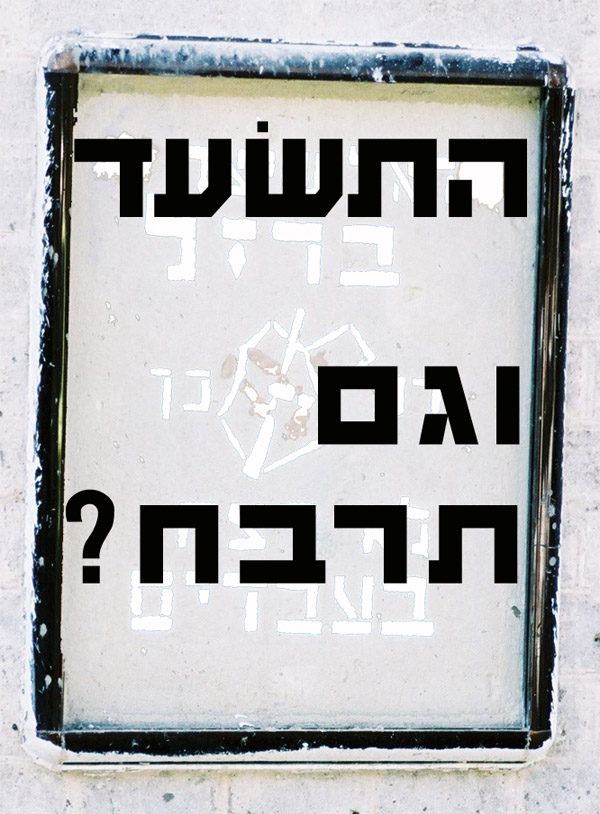 Careful, sticky:
The Hebrew letters standing for the Jewish new year "5774", if read slightly distorted, mean: "Will you feast?"
The other two words mean: "and also win; widen yourself?" (a close translation is the Spanish Rebaja).
This sentence, without the question mark and again slightly mispronounced, symbolizes the Moroccan Jewish habit to feast after the seven days (without leavened bread) of Passover. An extra sweet flower product is the Hit of the celebration.
No need to hint that this gravestone is a reminder to Israel's politicians, crudely subduing the weak and poor, promoting the strong/rich rascals in power.
As for the outer politics: The tombstone's background inscription is the former revisionists party's slogan, wanting to occupy the whole of Jordan, reaching the river Euphrat. (God created iron in order to bring slavery to an end). Koran, anybody?
A happy new year, hip hop!