Rafi Műnz | Art & Nonsense
Art as Red District
Exhibition & residency in Kokkola
Finland, February 2014

Home
Helvetia
Seto
FotoSeto
SetoDraw
Art as Red District
Window of opportunity
Installation
rerubbishing
Interference
Ban the Bum
Sculpture
Oil Painting
Collage
Watercolor
ExLibris
Prints
Books
Photo
Drawing
Graphic Design
Exhibition/Vita; dolce
Statement/Contact
Archive & site map
Critics
The last trigger for this exhibition was HOLLAND COTTER's article in the New York Times on Jan. 17, 2014. I took the liberty of printing the first few lines here:
Money — the grotesque amounts spent,
the inequitable distribution — has dominated talk about art in the 21st century so far. It's a basic fact of art history.
Emperors, popes and robber barons set the model for the billionaire buyers of today.
Of course, it is today that matters to the thousands of artists who live and work in this punitively expensive city, where the art industry is often confused with the art world.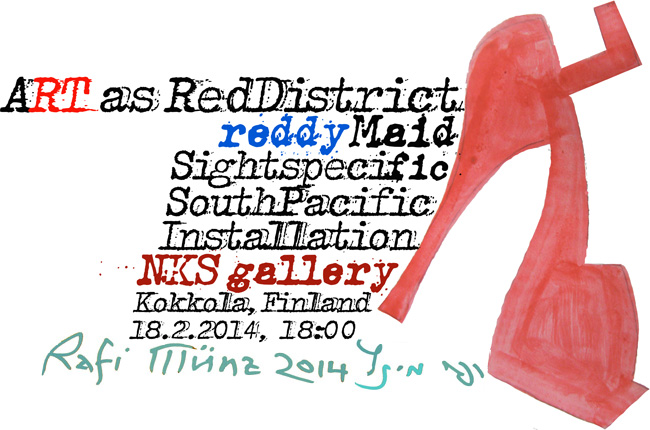 Credits (in alphabetical order)
A.S.+ Co. NKS — my generous hosts
Anders (NKS)
Sir Francis Bacon
Brian, who donated the Money Train
John Cage
Dalilah's escort
Paul Gaugin
Édouard Manet
Piet Mondrian
Anonymous Rubbish donors
In cooperation with The White House
and The Chinese Republic of the People.