Rafi Műnz | Art & Nonsense

Residency and exhibitions in
Z​űrich, Switzerland,
March through July, 2015
Home
Helvetia
Seto
FotoSeto
SetoDraw
Art as Red District
Window of opportunity
Installation
Installation 2014
rerubbishing
rerubbishingB
Ban the Bum
Interference
Sculpture
Oil Painting
Collage
Watercolor
ExLibris
Prints
Books
Photo
Drawing
Graphic Design
Exhibition/Vita; dolce
Statement/Contact
Archive & site map
Critics
Eine Schwall von Eindrücke überfallten mich an meiner Ankunft in Zürich. Einige von denen dienten als Rohmaterial für die Arbeiten hier, am letzten Monat.
Die Stadt und mehrere von meinen Kollegen in der AZB, können sich in dieser Ausstellung finden.

Landing in Zürich right into the sculptors' working commune that I was invited to, had an overwhelming effect on me. Some impressions of my colleagues and their town, appear in the first exhibition held in the Gasmesserhaus in Schlieren, celebrating my first month of work..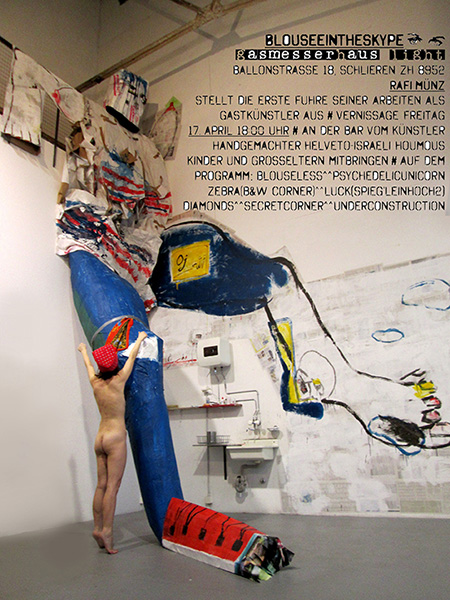 The invitation for my show in the
Gasmesserhaus,
Zűrich, April 17,2015
size of installation: 672x400x560cm