Home
Installation
Interference
Sculpture
Oil Painting
Collage
Watercolor
ExLibris
Prints
Books
Photo
Drawing
Graphic Design
Exhibition/Vita; dolce
Statement/Contact
Archive & Site Map
Critics
2012 installation
2014 installation
תם מה הוא אומר?
האם הביעור
ישים קץ לכיעור?
(או ששוב נתראה ביום כיפור?)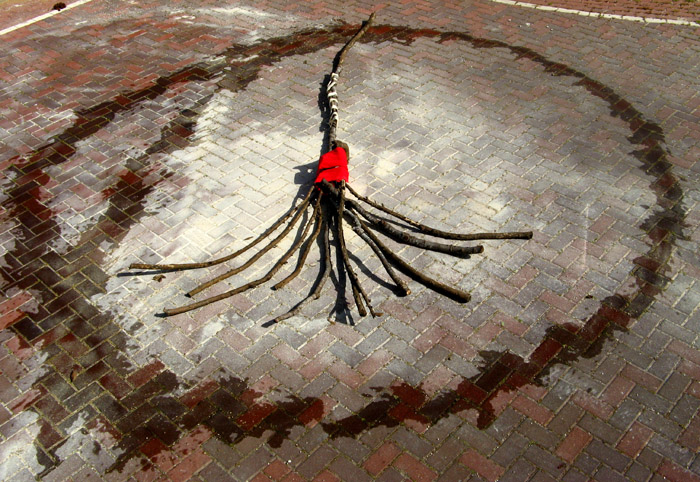 Ban the Bum – Branches, rope, cloth, oil, lime, on red, white and brown tiles – 800 x 750 x 35cm * יוחרם המטאטא
This outdoor installation was enabled by dwellers in my idyllic home village, Givat Ada, as well as by its authorities, who demonstrate a deep sense for aesthetics and a lack of qualified brooms to clean the masses they leave after them.
Little did I have to intervene in "nature" that supplied all the evidence.
I exploited the icon of 'Ban the Bomb', changing the slogan to 'Ban the bum' and swapping the "tripod" with a stylized "broom".
Pessah, the Jewish Passover holiday, is near. Traditionally the time for the spring cleaning; let us hope for a due Exodus from smell to perfume...
אך מעט היה עליי להתערב ב"טבע" שמספקים שכניי והמועצה המקומית גבעת עדה, בהפגינם חוש אסתטי מפותח וחריצות רבה בניקוי הזבל שהם משאירים אחריהם.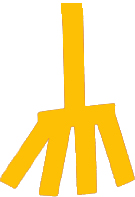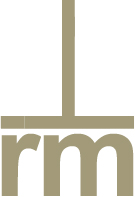 rm Brooming Ltd
ותודה לאילה רז על פרשנותה הגורפת
של סתם מגרפה